BIOKÉ and Mission Bio announce a distribution agreement for the Tapestri Platform in Benelux countries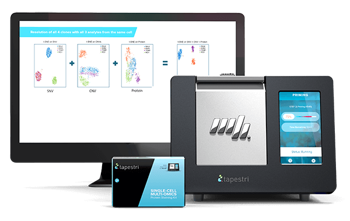 LEIDEN January 8, 2021 - BIOKÉ, a business unit of Cell Signaling Technology Europe, announced a signed distribution agreement with Mission Bio, the leader in single-cell DNA sequencing and multi-omics to accelerate discoveries and improve time-to-market for new therapeutics, to distribute Mission Bio's Tapestri® solution in the Netherlands, Belgium and Luxembourg (Benelux) effective immediately.
Mission Bio's Tapestri Platform is the first single-cell multi-omics platform capable of detecting DNA and protein changes simultaneously. It gives a profound insight into the mutations and immunophenotypes that drive disease to enable faster, more successful development of precision therapies.
"By partnering with BIOKÉ, one of Europe's leading distributors of innovative life sciences instruments, the Tapestri Platform will be widely available to researchers in the Netherlands, Belgium, and Luxembourg for the first time," said Darrin Crisitello, Chief Commercial Officer of Mission Bio. "Expanding our reach to these territories gives Benelux scientists the ability to analyze DNA and protein simultaneously from the same sample, unlocking critical understandings that were previously out of reach."
"The Tapestri platform provides unique insights into the mutations and phenotypes that drive disease during the response, relapse, and remission phases of cancer," says Robert Hovingh, Sales Manager BIOKÉ. "For the first time, researchers can gain a comprehensive understanding of the communication pathway from DNA at the center of the cell to its exterior surface proteins. We cannot wait to bring this technology to our customers in the Benelux."
Customers in Benelux countries interested in the Tapestri platform can learn more and order by visiting www.bioke.com/tapestri
About Mission Bio
Mission Bio is a life sciences company that accelerates discoveries and cures in oncology by equipping researchers with the tools they need to improve how we measure and predict our resistance and response to cancer therapies. Mission Bio's multi-omics approach improves time-to-market for new therapeutics, including innovative cell and gene therapies that provide new pathways to health. Founded in 2014, Mission Bio has secured investment from Novo Growth, Cota Capital, Agilent Technologies, Mayfield Fund, and others.
The company's Tapestri platform gives researchers around the globe the power to interrogate every molecule in a cell together, providing a comprehensive understanding of activity from a single sample. Tapestri is the only commercialized multi-omics platform capable of analyzing DNA and protein simultaneously, from the same sample at single-cell resolution. The Tapestri Platform is being utilized by customers at leading research centers, pharmaceutical, and diagnostics companies around the world to develop treatments and eventually cures for cancer. To learn more, visit missionbio.com.
About BIOKÉ
Founded in 2004, BIOKÉ is an experienced and knowledgeable company that provides innovative products with the highest quality in the life science industry throughout Europe. BIOKÉ delivers unique and high-performance products for genomics, protein analysis and cell biology. In July 2009 Cell Signaling Technology, Inc. (CST) acquired BIOKÉ BV and BIOKÉ became a business unit of Cell Signaling Technology Europe. CST Europe and BIOKÉ hold offices in Leiden, the Netherlands. For additional information please visit the website at www.bioke.com.