Working at BIOKÉ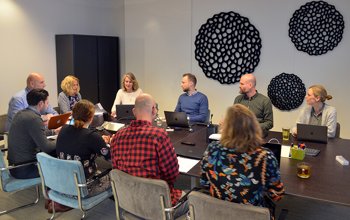 BIOKÉ is an innovative organization that for a large part thrives on well qualified and knowledgeable employees. Therefore we are always looking for experienced and enthusiastic professionals.
Do you have;
A PhD in Molecular Biology, Cell Biology or equivalent?
2 to 4 years of sales experience in Life Science?
Also an excellent knowledge of Dutch, English and/or German?
Then we gladly invite you to send your application to [email protected] and we look forward to meeting you.
Open Positions
Technical Application Specialist
Mission
Responsible for providing excellent scientific application and technical support to our
customers in the Benelux for the full catalogue of BIOKÉ (business unit of Cell Signaling
Technology) by up to date scientific knowledge and correct handling of customer
requests.
Tasks
- Provide scientific application and technical support to both colleagues and
customers
- Responsible for providing instrument demonstrations, repairs, and preventive
maintenance of assigned product portfolio
- Frequently visit our customers to promote new product initiatives
- Implement new technologies and applications, both internally and externally
- Conduct presentations, workshops and symposia both internally and externally
- Link products of a variety of suppliers and offer complete application/workflow
solutions for our customers
- Strive to maximum customer satisfaction
- Identifies, evaluate and execute opportunities to supply products to both existing
and prospective customers
- Identifies sales opportunities and utilizes a team-based selling approach to meet
defined sales goals
- To establish and maintain long term partnerships with new and existing customers
by effectively applying the highest level of knowledge related to customer needs,
workflow applications and product solutions resulting in customer satisfaction and
sales revenue
- Ensure optimal customer feedback with regard to product requirements and local
trends
- Ensure successful product launches
- Develop and write application notes in cooperation with our customers
- Report on market feedback and analysis
- Execute and report on market research
- Prepare reports and update our CRM system
- Manage communication with stakeholders throughout the organization
- Uses customer profile information to update our CRM system
- Supporting marketing by providing scientific content
- Support our marketing team in the development of product campaigns and
website
Requirements
- Master in Molecular Biology or similar
- Minimum 3 years relevant experience in (Molecular) Cell Biology
- The ability to work cross functional, cross cultural and to motivate our sales
channels
- Excellent knowledge communication and scientific writing skills
- Excellent organizational skills
- Excellent knowledge of Dutch and English both in word and writing
- Knowledge of French is a plus
Competences
- Customer Service and Partnership focus
- Commercial and Market Orientation
- Quality and Process Excellence
- Action Oriented & Result Driven
- Flexible and Agile
- Collaborative teamwork