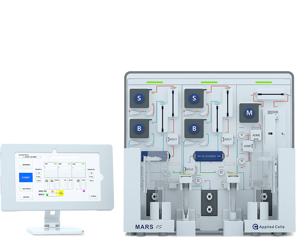 Company Profile
Applied Cells, Inc., was founded to create revolutionary solutions to complete the workflow of cell separation and enrichment products, which increase cell separation efficiently by fundamentally changing how physics is employed in the process. They are helping in battles against cancer by providing tools that are not only capable of isolating rarest cancer cells, but also capable of extracting highest quality immune cells to achieve better cell therapy outcome.
Their proprietary methods present a unique advantage in enrichment of target cells, including tumor cells and immune cells, from whole blood and from tissues, with high recovery, high purity and high reproducibility (3H). The products are valuable alternatives for cell therapy and clinical labs to achieve SOP through full automation and programmable process flow.
Their proprietary innovative MARS platform, short-named after "Multi-physics Automated Reconfigurable Separation", is ideal for high-throughput, high-efficiency, high-recovery, automated cell separation and sample preparation. Modular design of MARS allows flexible configurations to meet versatile workflows for rare cell analysis, immune cell profiling, and cell therapy, with capabilities including target cell enrichment, cell purification, and cell concentration.
Learn more about the MARS Technology