Unravel the threads of cancer's complexity.



Company profile
Intricately woven, cancer and other illnesses challenge us with complexity. With Mission Bio, you can carefully tease apart each strand – genotype, phenotype, cell types, co-occurring mutations, zygosity, and structural changes – for a more holistic view of biology, revealing more meaningful sources of disease. Providing cancer researchers with the only single-cell multi-omics solution that simultaneously detects SNV, CNV, and protein data from the same cell.
Mission Bio is a company of passionate people dedicated to solving complex biological problems with precision engineering, innovative biochemistry, and supported bioinformatics.
In 2014, the company was spun out of Adam Abate's lab for high-throughput biology at the University of California, San Francisco (UCSF). Mission Bio's precision genomics platform is based on the pioneering droplet microfluidics work of Abate and his team. The mission is to help researchers and clinicians unlock single-cell biology to enable the discovery, development, and delivery of precision medicine.
Products
The first and only single-cell multi-omics platform developed to reveal biomarkers that help stratify patients, signal resistance, and predict relapse.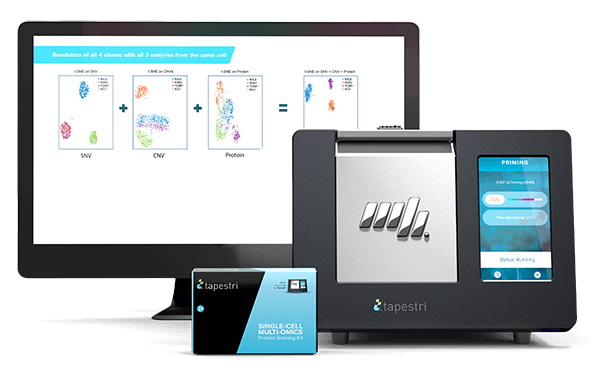 Tapestri Platform
An end-to-end workflow from sample preparation to visualization with publication-ready insights for single-cell analysis.
Learn more about the Tapestri Platform
Panels
Targeted panels provide focus on key regions of interest for efficient use of sequencing budget and analysis time.
Learn more about the Tapestri Panels
Learn more about Tapestri Oligos
Learn more about Tapestri Kits


Capabilities
Single-cell Genomics (DNA)
Single-cell Multi-omics (DNA+)

DNA + Protein - Gain a true multi-omics picture from genotype to phenotype.

Applications
Request more information