High throughput silica membrane-based viral RNA extraction using positive pressure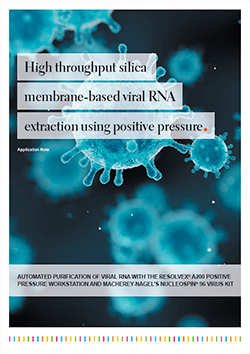 The global COVID-19 pandemic has resulted in a rapid increase in demand for the isolation of viral RNA. The required throughput for the extraction of viral RNA from swab samples quickly rose to levels that could not be handled using predominantly manual or low throughput automated workflows.

The NucleoSpin 96 Virus kit from MACHEREY-NAGEL is designed for the extraction of viral nucleic acids – RNA and DNA viruses – from cell-free, biological fluids, such as saliva, urine, serum or plasma, and sample homogenates (particle-free supernatants), for example, from swabs, tissue or stool. It uses a purification process based on binding of nucleic acids to a silica membrane column in a high throughput 96-well format. The NucleoSpin 96 silica membrane extraction plates can be processed using vacuum or positive pressure in an automated laboratory set-up.
Combining the NucleoSpin 96 plate-based workflow with the Resolvex A200 workstation from Tecan enables processing of silica membrane extraction plates under positive pressure, offering an accessible semi-automated solution to rapidly scale up throughput and reduce hands-on time.
Check out the full application note about automated purification of viral RNA with the Resolvex A200 positive pressure workstation and MACHEREY-NAGEL's NucleoSpin 96 Virus Kit.
Learn more about the products from MACHEREY-NAGEL