Consumables and bench top instrumentation, including products for PCR & Sequencing, Assay Screening, Compound Storage and Microplate Sealing.
Company Profile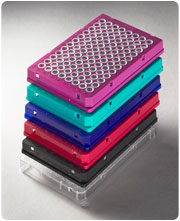 4titude Ltd is specialized in the design, manufacture and marketing of consumables and bench top instrumentation for the life sciences industry. 4titude's ISO certified (EN ISO 13485:2016 and ISO 9001:2015) manufacturing and the associated management and monitoring processes guarantee the quality procedures to meet the high technical requirements of all customers. With a focus on quality, innovation and flexibility 4titude is committed to meet the highest customer expectations at all times.



Go to the 4titude Plate Compatibility Selector
Are you interested in more information? Below you will find application notes and or papers.
BIOKÉ is the exclusive distributor of 4titude in the Netherlands, Belgium and Luxembourg. Contact us if you have any questions about 4titude products or compatibility.
FrameStar® is covered by one or more of the following US patents or their foreign counterparts, owned by Eppendorf AG: US Patent Nos. 7,347, 977 and 6,340,589. FrameStar® is a registered trademark owned by 4titude®Ltd