Monarch® Nucleic Acid Purification Kits -
Transform your DNA and RNA purification experience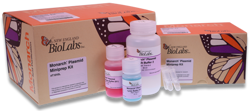 Nucleic acid purification is an essential step in many molecular biology workflows, including enzyme digests, transformation, electrophoresis, RT-PCR, RT-qPCR and library preparation. Monarch kits enable quick and easy purification of high-quality DNA and RNA, suitable for direct use in a variety of downstream applications. Recover pure, intact DNA and RNA in minutes with fast, user-friendly protocols and optimized buffer systems, and focus your time on the experiments that will drive your research forward.
Monarch kits are all designed with sustainability in mind; whenever possible, kits and components are made with significantly less plastic and are packaged with responsibly-sourced, recyclable packaging.
The Monarch Total RNA Miniprep Kit is optimized for use with a wide variety of sample types, so that one convenient kit can serve your RNA purification needs.
Monarch DNA purification kits are available for plasmid miniprep, reaction cleanup, and gel extraction. Monarch DNA columns are designed without a retaining ring, eliminating the potential for buffer carryover and enabling low-volume elution.

Order your kit below:
T1020S/L - Monarch DNA Gel Extraction Kit
Rapidly purify up to 5 μg of concentrated, high-quality DNA from your agarose gels, with no need to adjust pH. Elute in as little as 6 μl for a more concentrated sample. Enjoy high yields and minimal hands on time.


T1010S/L - Monarch Plasmid Miniprep Kit
This kit employs familiar cell resuspension, alkaline lysis and neutralization steps, with the additional benefit of color indicators to monitor completion. Elute in lower volumes for more concentrated, highly pure DNA samples.


T1030S/L - Monarch PCR & DNA Cleanup Kit
Purify DNA from a variety of enzymatic reactions, including PCR, restriction digestion, ligation and reverse transcription. Also isolate small DNA including oligos with a slight protocol modification.


T2010S - Monarch Total RNA Miniprep Kit
Extract and purify up to 100 µg of high-quality RNA from a variety of sample types with a single, convenient kit. DNase I, gDNA removal columns, Proteinase K, and a protection reagent are all included. Monarch-purified RNA is ready to use in RT-PCR, RT-qPCR, RNA-seq and other applications.
T2030 - Monarch RNA Cleanup Kit (10 μg)
T2040 - Monarch RNA Cleanup Kit (50 µg)
T2050 - Monarch RNA Cleanup Kit (500 µg)
The Monarch RNA Cleanup Kits enable fast and simple purification and concentration of up to 10, 50 or 500 µg of RNA from enzymatic reactions.



4 Reasons to Choose Monarch
Use with multiple sample types, including blood, cells, tissues and tough-to-lyse samples
Effectively purify RNA of all sizes, including small RNA (<200 nt)
Efficiently remove genomic DNA with included gDNA Removal Columns and DNase I
Easily purify high-quality DNA with excellent yields from bacterial cultures, agarose gels and enzymatic reactions
Elute in low volumes for highly-concentrated DNA
Eliminate buffer retention and carryover contamination with our columns that do not contain retaining rings
Save time with fast, user-friendly protocols and optimized buffer systems
Take advantage of columns designed for easy labeling and handling
Kit configurations are optimized for minimal material consumption
Decrease your plastic usage with custom, thin-walled columns and collection tubes
Kits are packaged with responsibly-sourced and recyclable packaging and printed with water and soy-based ink
Reuse your Monarch box and share your upcycle with #NEBMonarchUpcycle
Maximize your research dollars with our competitive pricing
Monarch buffers and columns available separately
Save with no additional shipping, handling or hazardous materials charges

Request your Monarch sample