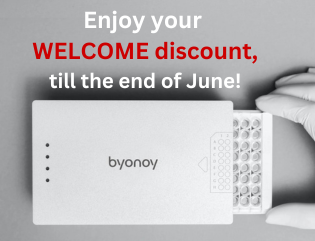 We're excited to announce our new partnership with Byonoy! To celebrate it, we are thrilled to offer a special price on Byonoy's Absorbance 96.
Until the end of June it's 2999 EUR instead of 3990 EUR!
The Absorbance 96 in a nutshell:
- small (9x14.5 cm)
- fast (5 sec. read time capability)
- no moving parts
- for ELISAs, Protein assays and Cell-based assays
With this exclusive offer, you can take advantage of the latest technology in plate readers while saving money at the same time!
Get your discounted reader now!
Fill in the form below afor your welcome discount!