Game of Clones: Save 25% on NEBuilder and Q5 Site-Directed Mutagenesis products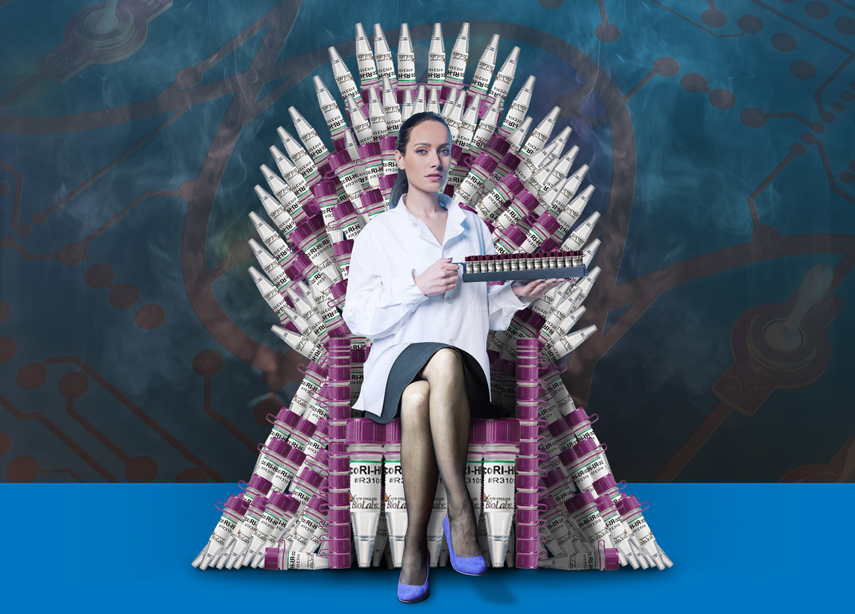 Emerging innovative cloning techniques fight for supporters. Choose your side and join their ranks. Will you cheer for the NEBuilder® HiFi DNA Assembly Master Mix or will you support our other champion the Q5® Site-Directed Mutagenesis Kit? Check out their unique strengths and decide which one tips the scales for you in your experiment.
NEBuilder HiFi DNA Assembly

Q5 Site-Directed Mutagenesis

Seamless assembly of multiple DNA fragments, regardless of fragment length or end compatibility

Assembly of ssDNA fragments
Easy sgRNA assembly for CRISPR/CAS experiments

Generation of mutations, insertions or deletions in plasmid DNA

Non-overlapping primer design ensures exponential amplification
Use of standard primers eliminates additional expenses from special oligos
This promotion is not valid anymore. Check our current special offers.
Did you find your ultimate warrior? Try them with 25% discount* when mentioning the promotion reference 'EU-GOC3' on your order in April.

Which of the champions do you choose?
Order today and benefit from this temporary Game of Clones discount. Choose your favorite cloning technique and order your products in the BIOKÉ webshop, via email or via your ordering system.
Do you enjoy the BIOKÉ Game of Clones? Find your new hero's in the brand-new Catalog from NEB that will be available in May 2017.

Reserve your NEB Catalog
*This promotion is not valid anymore, please check our current special offers.
This offer was valid in Belgium, Netherlands and Luxembourg from April 3 until April 28, 2017. No cash or cash equivalent. Offer may not be applied to existing, pending or prior orders. Free samples cannot be requests by current users of the sample-products. Promotion cannot be combined with any other promotions or discounts and is valid for the following catalog items from New England Biolabs: E2621S/L/X, E5520S, E0552S, E2623S and E0554S when the reference 'EU-GOC3' is mentioned on the order. BIOKÉ reserves the right to change or terminate the promotion without notice at any time.