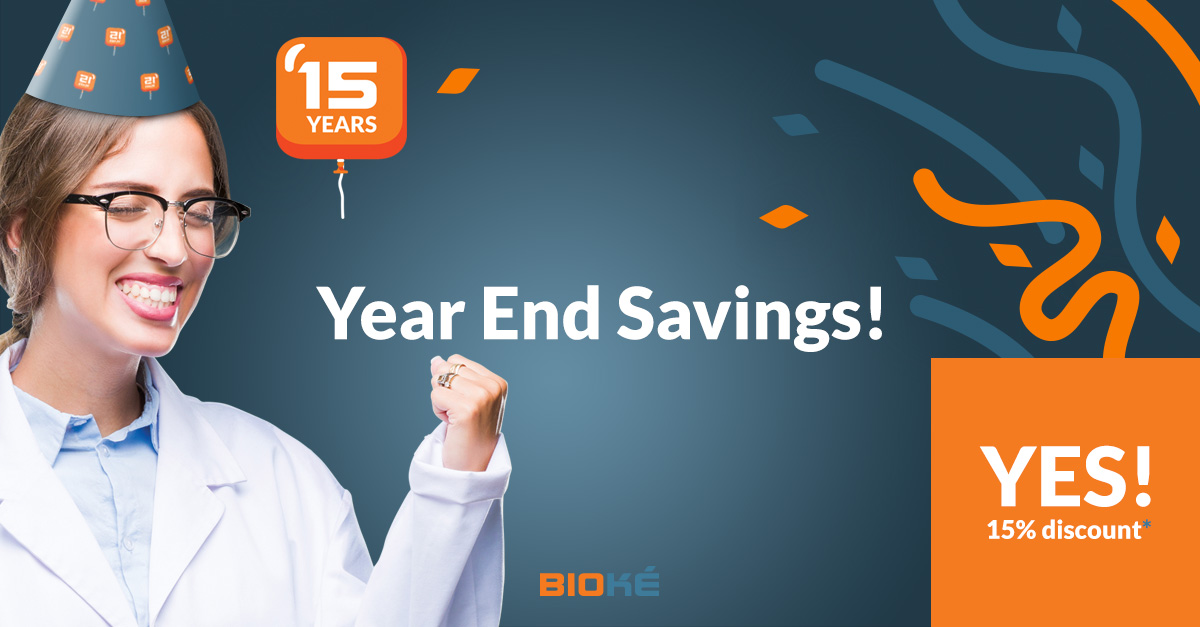 YES! Year End Savings for many products from BIOKÉ

Use Code "EU-YES19" When Placing Your Order

This year we celebrate our 15th anniversary. Come and join us! You've been our motivating force for innovation, idea contributors and constant collaborators over the years. To say thank you, we'll end the year with a 15% discount* promotion on many of our products! Mention the code "EU-YES19" on your order and benefit until December 13th, 2019.
Benefit now from 15% discount* on our A-brand products:
The largest selection of enzymes for molecular biology applications
Learn more

Ready-to-use kits for nucleic acid and protein purification
(only available via BIOKÉ in the Netherlands).

Learn more

Plates, tubes, seals and sealing instruments for PCR applications

Learn more

High-quality antibodies and custom antibody services

Learn more
Instrument and tools for reproducible dissociation and homogenization
Learn more
Robust thermal cyclers with 5 years warranty
Learn more

The promotion is valid for all products from these brands. Some examples of your daily essentials for your cloning workflow:
Q5 high-fidelity DNA polymerase (NEB) - the new standard for both fidelity (˜280 times higher than Taq) and robust performance.
NucleoSpin kits (MN) - rapid and easy preparation of DNA and RNA.
Restriction enzymes (NEB) - largest portfolio of the most reliable enzymes on the market.
NucleoBond kits (MN) - plasmid DNA and gDNA purification with the highest DNA purity.
FrameStar PCR plates (4titude) - 2-component plates with reduced evaporation in PCR.

* Terms and conditions: this special offer is valid in the Netherlands, Belgium and Luxembourg until December 13th, 2019 for orders with the promotion reference "EU-YES19" for all products from MACHEREY-NAGEL, New England Biolabs (NEB), 4Titude, Bethyl Laboratories, Syntec International and SensoQuest. MACHEREY-NAGEL products are only available via BIOKÉ for customers from the Netherlands. No cash or cash equivalent. Offer may not be applied to existing, pending or prior orders. No other discounts apply. Cannot be combined with any other promotions or discounts. Not valid for custom and bulk products. BIOKÉ reserves the right to change or terminate the promotion without notice at any time. Contact us if you have any questions about this promotion.
More information needed?
Complete your details below and we will contact you.