New Assays and Applications for Cancer Immunotherapy
Are you looking for new ways to accurately measure tumor cell killing efficacy?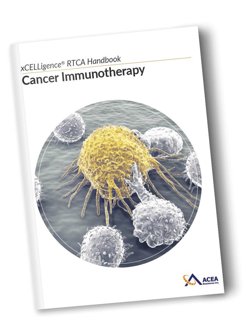 Download the new Cancer Immunotherapy Handbook by ACEA Biosciences to learn about different ways the immune system can be harnessed to target tumor cells. Discover new assays that more closely model the complex interaction of effector cells with tumor cells.

Cancer Immunotherapy applications include:
• Antibody-Dependent Cell-Mediated Cytolysis (ADCC)
• Bispecific T Cell Engagers (BiTEs) and Bispecific Antibodies
• Checkpoint Inhibitors
• Genetically Engineered T Cell-Mediated Cell Killing
• Liquid Tumor Killing
• Oncolytic Viruses

More effective in vitro assays need to be developed to accurately predict the in vivo behavior of immunotherapies. With ACEA Bio's xCELLigence platform, the health of target tumor cells are continuously monitored as effector cells, antibodies or small molecules are added, yielding more comprehensive results.

Is your current in vitro assay truly predictive of in vivo outcomes?
Reap the benefits of game-changing predictivity with xCELLigence® Real-Time Cell Analysis (RTCA) instruments:
Label-Free: No 51Cr, no luciferase, no dyes…NO PROBLEM
Astonishingly Simple Workflow: Plate target cells, add effector cells, and start reading

Read an entire 96-well plate in 15 seconds
Run up to 6 plates independently, with no scheduling conflicts
Monitor target cell killing continuously from seconds to days

Exquisite Sensitivity: Monitor target cell killing at low, physiologically relevant effector:target ratios
Diverse Effector Cells and Molecules: TIL, NK, CART, TCR, checkpoint inhibitors, BiTEs
Quantitative, Real-Time Kinetics: Highly accurate and highly reproducible
Download