Bethyl Laboratories wins CiteAb Award for "Researchers' Choice"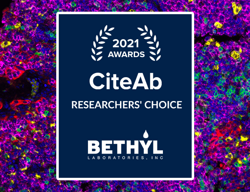 Leiden March 22, 2021 - Bethyl Laboratories Inc was honored today with the 2021 CiteAb® Award for "Researchers' Choice". This award was given to the company that judges felt had most impressed its customers, based on nominations made by the researchers who had used the company's products.
Dr Andrew Chalmers said: "Huge congratulations to Bethyl Laboratories, which received a number of really strong nominations from its customers.
As is always the case with this popular category, we had a huge number of nominations, but those for Bethyl Laboratories stood out. Most focused on the exceptional quality of the company's products, but also mentioned were its fantastic customer service and the possibility of purchasing trial sizes of most reagents which researchers appreciated."
"Bethyl Laboratories join an outstanding alumni for this award, with previous winners including Bio-Techne and Cell Signaling Technology. This is a huge achievement, demonstrating the high regard in which the company's customers hold it, so on behalf of the team here at CiteAb I would like to offer my congratulations to Bethyl Laboratories."
Nominators said:
"I always look to Bethyl first when I need to purchase a new antibody. Their quality control is excellent and their antibodies for immuno-blot and IPs are the best."
"I have been a customer for many years, and they have made some superb antibodies for us and our colleagues."
"Bethyl offers a wide selection of good quality antibodies, with trial sizes for most. They also cover a large number of commonly studied proteins and are easy to contact with quick customer service responses."
"Bethyl Labs is my 'go to' company - I have been using their antibodies and ELISA kits for a long time. The company should be proud of their consistent products , prompt delivery and friendly service. These are the companies that need to be encouraged and applauded for their service since it saves time, effort and resources for the researcher.
BIOKÉ congratulates Bethyl Laboratories with this great achievement!
MORE 2021 CITEAB AWARD WINNERS
About Bethyl Laboratories
Bethyl Laboratories, Inc. has been dedicated to improving lives by supporting scientific discovery through its qualified antibody products and custom polyclonal services since its founding in 1972. Bethyl has a global reputation for quality, consistency and first-class customer care. Every antibody that Bethyl sells is manufactured to exacting standards in Montgomery, Texas, and is validated in-house by a team of scientists. From the veterinary facilities to the development, production, and validation labs, the entire Bethyl team focuses on delivering quality products and delighting customers.
Want to receive more information about Bethyl?