How it all started: the BIOKÉ story.
Celebrating 15 Years with You!
Time really does fly when you love what you do and have fun doing it. It's a sunny spring day in Leiden, The Netherlands 2004. Two really tall Dutch guys, Koos and Kees, have the same simple but compelling vision: share scientific knowledge! But how? It became clear the fastest way to do that was to put only the most innovative, high-quality products in the hands of as many life science researchers as possible. So together with their trusty intern Vanessa, a fourth year Life Science & Technology student herself - BIOKÉ BV takes roots.
After that, things happen fast. Koos and Kees meet Finnzymes at a big trade show. Finnzymes has just released their innovative Phusion enzyme, a PCR Polymerase with the highest fidelity on the market, and just happen to need a BeNeLux distribution partner. This new pairing was perfect for the BeNeLux too – Phusion was a big hit with researchers. First product down! Other innovative brands like MACHEREY-NAGEL, SoftGenetics and Cell Signaling Technology (CST) came on board soon after.
5 years later, big things happen. Because of Koos, Kees and their team's great success, CST reached out to see how both companies could combine knowledge. Soon after, CST acquires BIOKÉ as a business unit. The Leiden office is now CST's European headquarters and big investments were made in both people and space so we can serve customers in the BeNeLux and other European countries even better.
The next challenge: keeping it fun. BIOKÉ is all about innovation, quality and knowledge but that doesn't have to be boring at all. Look how fun science, passion and sharing knowledge can be: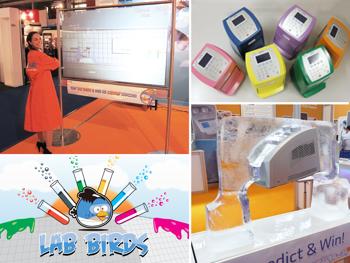 ORANGE. Everywhere.

Lab coats too!

Easter egg-colored instruments

Lab Birds Game!

The guess when the thermal cycler

will break through the ice challenge

DJ Koos at the European Society of

Human Genetics networking party

Salsa dancing workshop at our

scientific seminar
Today, we represent 15 innovative brands in 18 countries with 59 employees. Kees has started a new adventure but Koos, of course, is still on the hunt for the most innovative products. Our team's mission is to continue to find new ways to help you do your best research. And Vanessa? She's with CST as Business Intelligence Analyst and still supports BIOKÉ, too.
How to celebrate with us!

15 years made possible by YOU.

You've been our motivating force for innovation, idea contributors and constant collaborators over the years.
To say thank you, we'll be celebrating all year. Look for more news on upcoming anniversary activities.
Don't miss out on our fun giveaways all year long like DNA tattoos, balloons, candy and you guessed it….cake!

Share what you were doing in the past 15 years on LinkedIn using #15yearchallengebioke
and you'll be entered to win a 15-year celebration cake* each month for your lab!

* This promotion is valid throughout 2019 for all customers in Europe. While stocks last. No cash or cash equivalent. Cannot be combined with any other promotions or discounts. BIOKÉ reserves the right to change or terminate the promotion without notice at any time.